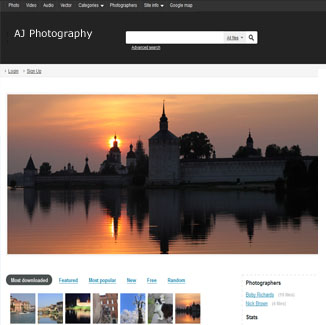 Photography Website
1800-CMS Photography Websites
offers a powerful on-line features for photographers. You will have all tools to upload, present and sell your photo stock easily.
What's Included:
Administration access
1 FREE Domain
2 Months FREE Hosting
Administration Panel:
Selling media content:
Prints of photos and vectors
Shipped products
Orders per file
Subscription for instant access
Credits system allows users to use prepaid credits for the purchase.
Coupons/Discount allows user to get a discount and a bonus.
Tax system.
Facebook/Twitter authorization.
Remote file's storage on Amazon S3 and Rackspace clouds files
Google coordinates.
Photographer's examination system.
Payment gateways: Paypal, Google Checkout, Authorize, 2Checkout
Admin Upload panel
Admin Bulk upload panel You can bulk upload photo files.
Watermark The users can set transparent copyrights on the photo.
IPTC and EXIF support allows you to read and use a description
and keywords of photo files during the upload.
Category password protected, if desired.
Clients Account:
SEO friendly optimized links All our links have *.html extension
Photo zoomer
Sorting by most popular, newest, featured, random.
Slideshow
Related items
Tag clouds
Hover view Light preview window when the mouse is over the image.
RSS for categories, blogs and news
Lightbox allows user to make their favorite photo galleries.
Rating system: The users can vote for favorite galleries and rate them.
Blogs
Notifications
Newsletter
Messages
Comments
Tell a friend